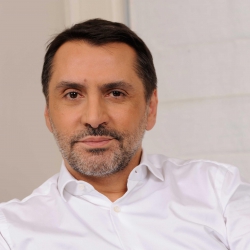 Dr. François Niforos
En bref
François Niforos is a facial aesthetic plastic surgery expert, particularly in rhinoplasty and facial rejuvenation surgery. He is one of the most ancient key opinion leaders for Allergan (Botox, Juvederm). He is the creator of the MEDISPA concept. Member of ISAPS, SOFCPRE, SOFCEP, Rhinoplasty Society of Europe, College ORL, SF ORL et SF CEPFC. He is specialized in closed approach rhinoplasty, minimally invasive modern rhinoplasty as a concept. He is also well known for facial surgery and particularly for endoscopie approach of the face.
Lyon, France
Plastic Surgeon, Clinique Niforos, Lyon France
Français, Anglais
Expérience Professionnelle
Plastic Surgeon
Depuis 2000
Clinique Niforos, Lyon, France
Head of Clinic - Assistant
De 1993 à 1994
St Etienne University Hospital
Formation
Post graduate degree in Plastic and Reconstructive Surgery
2002
University of Marseille
Post graduate degree in Face and Neck Surgery
1994
University of St Etienne
Fellow
1992
Saint Etienne University Hospital
Publications
How to achieve synergy between volume replacement and filling products for global facial rejuvenation.
2011
Journal of cosmetic and laser therapy : official publication of the European Society for Laser Dermatology
Lire ici
Botulinum toxin A in the treatment of glabellar lines: scheduling the next injection.
2005
Aesthetic surgery journal
Lire ici
Publications
Reconstruction totale de la columelle nasale à partir de lambeau naso-génien
Journal Français d'ORL
1994
Correction du tiers moyen de la face par injection
ANNALES DE CHIRURGIE PLASTIQUE ET ESTHETIQUE
2009
Global 3-dimension approach to natural rejuvenation: recommendations for perioral, nose and ear rejuvenation
Journal of Cosmetic Dermatology avec Gassia V, Raspaldo H, Michaud T
2013
Associations professionnelles
Société Française des Chirurgiens Esthétiques Plasticiens (SOFCEP)
Member
Société Française de Chirurgie Plastique Reconstructrice et Esthétique (SOFCPRE)
Member
Société Française d'Oto-Rhino-Laryngologie et de Chirurgie de la Face et du Cou (SFORL)
Member