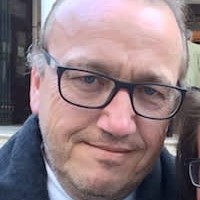 Dr. Gilles Candelier
En bref
Caen Cedex, France
Français, Anglais, Allemand
Expérience Professionnelle
Hand Surgeon
Depuis 2014
Hand and Ultrasound surgery Center Caen, Caen, Lower Normandy, France
Hand Surgeon
De 2006 à 2013
Centre Hospitalier Privé Saint-Grégoire, Hand surgery Saint-Grégoire, France
Chief of department
De 1999 à 2006
Centre Hospitalier Avranches - Granville, Othopaedics and Hand surgery , France
Formation
Fellow - Senior Registrar Assistant - chef de clinique assistant, Hopital Boucicaut SOS Mains AP-HP Paris
1999
Université René Descartes - Paris 5
Fellow - Senior Registrar - Chef de clinique assistant, Hopital Raymond Poincaré AP-HP Service de Chirurgie Orthopédique Garches
1996
Université René Descartes - Paris 5
Residency S. Chirurgie Orthopédique Pr. Patel
1995
Hôpital Raymond Poincaré Garches
Publications
Ultrasound-Guided de Quervain's Tendon Release, Feasibility, and First Outcomes.
2019
Journal of wrist surgery
Lire ici
[Wide-Awake Local Anesthesia and No Tourniquet (WALANT) in open thumb fracture under antithrombotic therapy: overcoming an impasse].
2019
Revista brasileira de anestesiologia
Lire ici
Repaired Flexor Tendon Excursion with Half a Fist of True Active Movement Versus Full Fist Place and Hold in the Awake Patient.
2019
Plastic and reconstructive surgery. Global open
Lire ici
Associations professionnelles
French Society for Orthopaedics and Traumatology (SOFCOT)
Member
French Society for Surgery of the Hand (SFCM)
Member
European Wrist Arthroscopy Society (EWAS)
Member
Distinctions
Shoulder Course Reading
2004
Bourse d'étude du GEM
Upper limb surgery Unit Wrightinghton Hospital Manchester
1999