TAVI INITIATION DAYS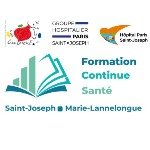 Formation Continue Santé - Paris Saint Joseph - Marie Lannelongue
Le Plessis-Robinson, IDF, France
Voir plus
Cardiologie et maladies vasculaires - Cardiologie interventionnelle
LE PLESSIS ROBINSON, France

2 jours de formation

/

Durée effective : 20h

4 participants par session
Anglais
Détails de la formation
Last update: 26/10/2021
Final registration date: 23/09/2022, provided there is space available.
Only in situ.
Formation Continue Santé is the training Institute of the Groupe Paris Saint Joseph hospitals.
The Institute trains about 600 people a year. In 2020 and the first semester of 2021, the average training grade is 18.5 / 20, the recommendation rate varies between 95% and 99% …
WHY PARTICIPATE?
This 1st level of demonstration on TAVI will allow you to master the good practices in pre/per and post-operative and to train you through the simulation on concrete cases. You will have the opportunity on the 2nd day alongside Dr. GHOSTINE to attend the loading and deployment of valve. By Team of 2, you will evolve for 1 day in a last generation interventional technical platform, allowing you to familiarize yourself with the good conditions of use of the room and understand the role of the Heart Team in a hybrid environment.
If this first experience with the TAVI is conclusive. Other more advanced days will be offered to you in order to increase competences on the operating technique and the specificities of the hybrid environment.
ANIMATORS
The introductory days at TAVI is organized by the Marie Lannelongue Training Institute with logistical support according to the sessions of the companies: Medtronic, GE Healthcare, Abbott and Edwards
Most of the modules will be delivered by the operators of the HML (Hôpital Marie Lannelongue). The partners will intervene mainly on technical topics by providing participants simulator experiences and/or other specific equipment.
Qu'allez-vous apprendre ?
Learn about the procedure and good practices TAVI
Familiarize yourself with the specifics and conditions of good use of a hybrid room
Méthodes pédagogiques
Cas live, Cas pratique, Simulation, Vidéo, Présentation théorique, Présentiel
Méthodes d'évaluation
Evaluation in situ
Sur atelier
Quizz
Avantages de la formation
Small groups
Hands-on workshops
Simulation
Cathlab access during procedures
individual and personalized follow-up
Public cible
Interventional Cardiologists
Prérequis
This program is only available to Interventional Cardiologists.
Programme
Day 1
09:30 -10:00 Welcome of the participants
10:00 -10:30 Video of a TAVI in the new hybrid room
Description of the patient care pathway operated for a TAVI at the HML
10:30 -12:30 Patient Selection: eligibility criteria (gradient, calcification)/ special case of complex patients
Heart team concept presentation (multidisciplinary team)
12:30 - 13:30 Lunch
13:30 -14:00 Presentation of the specific features and operation of the hybrid room
What is a good scan? Focus on eligibility criteria?
14:00- 16:30 Sizing: What should be measured?
Presentation of the next day's cases
Poor quality case overview
16:45 -17:15 Puncture site
17:15-19:15 Product Presentation and demonstration
Workshop Loading the valve
Simulation
20:00 Diner
Day 2
08:00 -8:30 Welcome of the participants
08:30 -12:00 TAVI in Hybrid room with Dr GHOSTINE
Simulator training = > Simulation of the complete procedure
informal Discussion on the modes of anesthesia (between two procedures)
12 :30 – 13:30 Lunch
13:30-16 :30 TAVI in Hybrid room with Dr GHOSTINE
Simulator training
16:30 -17:00 Debriefing of the day - Follow up
Photos
Données logistiques
Se rendre sur place
Hôpital Marie Lannelongue is in the South of Paris
30' from Orly and 1h from Roissy Charles de Gaulle
30' from Paris
Railway Line : RER B Robinson
Où loger ?
Le Grand Hôtel – Le Plessis Robinson
Le Parc Hôtel – Le Plessis Robinson
Détails pratiques
Should you require any specific arrangements to attend our training courses, please contact us or contact your training consultant.
Lieu
Hôpital Marie Lannelongue
133 avenue de la Résistance
92350 LE PLESSIS ROBINSON, France