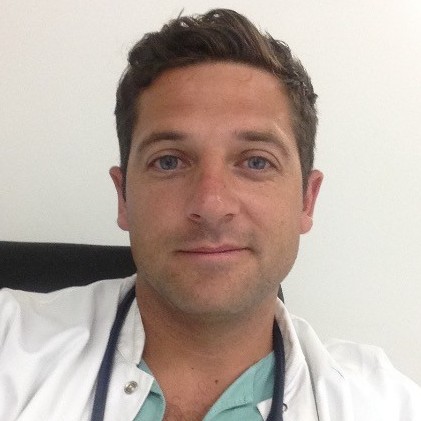 Dr. Julien Legodec, MD
En bref
Dr Julien Legodec focuses mainly on Respiratory Sleep Pathologies. After serving as a Pulmonologist at St Ann Military Hospital for 5 years, Dr Legodec is now working at St Joseph Hospital in Marseille as well attending his private practice in Ollioules near Toulon, France.
Toulon
Pulmonologist, St Joseph Hospital, Marseille, France
Français, Anglais
Expérience Professionnelle
Pulmonologist
Pulmonology, Respiratory Allergies & Thoracic Oncology Department
Depuis 2016
St Joseph Hospital, Marseille, France
Pulmonologist
Depuis 2016
Malartic Medical Center, Ollioules, France
Pulmonologist
Pulmonology Department
De 2011 à 2016
Saint Ann Military Hospital, Toulon, France
Formation
University Diploma, Advanced Thoracic Endoscopy
2014
St Etienne University Medical School, France
MD
2011
APHM, AIX-Marseille University Medical School, France
University Diploma, Physiology & Pathology of Sleep
2011
Grenoble University Medical School, France
Publications
A randomized trial comparing adjuvant chemotherapy with gemcitabine plus cisplatin with docetaxel plus cisplatin in patients with completely resected non-small-cell lung cancer with quality of life as the primary objective.
2015
Interactive cardiovascular and thoracic surgery
Lire ici
[Sarcoidosis of the thyroid: A case report].
2015
Revue de laryngologie - otologie - rhinologie
Lire ici
High-flow oxygen, a therapeutic bridge while awaiting thrombolysis in pulmonary embolism?
2013
The American journal of emergency medicine
Lire ici
Associations professionnelles
World Association of Bronchoscopy & Interventional Pulmonology
Member
European Association of Bronchoscopy & Interventional Pulmonology
Member
Société de Pneumologie de Langue Fran çaise
Member