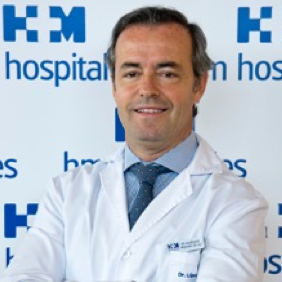 Prof. Gontrand Lopez-Nava, MD & PhD
En bref
Dr. Gontrand Lopez-Nava, MD, PhD, is one of the most experienced specialists in Europe and probably in the world, in endoscopic technologies for obesity. He founded the Endoscopy Department of Madrid San Rafael Hospital and later on the Endoscopy department of Madrid Sanchinarro University Hospital. In 2002 started Bariatric Endoscopy until now, where as Head of the Bariatric Endoscopy Unit at HM Sanchinarro University Hospital in Madrid, Spain, he has developed an important experience for more than ten years in proctoring Drs and treating patients in the following Bariatric Endoscopy procedures:
Intragastric Balloons: Implantation of different types of Intragastric Balloons, with more than 3.000 cases done and many papers, lectures and faculty roles
Endoscopic Sleeve Gastroplasty (APOLLO Overstich): 400 cases done and 6 papers published. First author of the world in communicate results at 6 months, at 2 years and at 2 years in a multicentric study. First cases done in continents like Europe or Australia, first in countries like Spain, France, Saudi Arabia, Jordan…Faculty and lectures at IFSO; ASGE, SECO, SEPD meetings, etc
POSE procedure and first author in the world to communicate results of weight loss at 1 year in more than 100 cases.
Endobarrier: 100 cases done in patients with obesity associated to diabetes type II or Metabolic Syndrome.
He is also the Director and Organizer of the four editions of MIBE meeting (Madrid International Bariatric Endoscopy), and the Author of numerous publications in national and international journals, books and Speaker and faculty at numerous national and international conferences.
Madrid, Espagne
Head of the Bariatric Endoscopy Unit
Anglais, Espagnol, Français
Expérience Professionnelle
Founder & Head of the Bariatric Endoscopy Unit
Depuis 2010
Hos​pital Universitario Madrid Sanchinarro
Professor of Medicine
Depuis 2010
San Pablo CEU University, Madrid
Founder & Head of the Digestive Care and Endoscopy Department
De 2007 à 2010
Hospital San Rafael y del Hospital Universitario Sanchinarro
Formation
Ph.D.
2015
University CEU San Pablo
M.D.
1992
Valladolid University School of Medicine
Publications
ENDOSCOPIC SLEEVE GASTROPLASTY FOR OBESITY TREATMENT: TWO YEARS OF EXPERIENCE.
2017
Arquivos brasileiros de cirurgia digestiva : ABCD = Brazilian archives of digestive surgery
Lire ici
Endoscopic Sleeve Gastroplasty for Obesity: a Multicenter Study of 248 Patients with 24 Months Follow-Up.
2017
Obesity surgery
Lire ici
Erratum to: Initial Approach to Childhood Obesity in Spain. A Multisociety Expert Panel Assessment.
2017
Obesity surgery
Lire ici
Associations professionnelles
American Society for Gastrointestinal Endoscopy (ASGE)
Member
Sociedad Española de Cirugía de la Obesidad (SECO)
Member
Sociedad Española de Patología Digestiva (SEPD)
Member
Distinctions
First in Europe, First in Oceania and first in different countries and cities to perform Endoscopic Sleeve Gastroplasty
2015
Premio de la Sociedad Española de Patología Digestiva
XXIV Congreso Nacional de la SEPD
1997
Beca del Fondo de Investigación Sanitaria del Ministerio de Sanidad y Consumo
1996
Engagements Récents
Faculty at IFSO, ASGE, SEPD, SECO, SEEDO
.