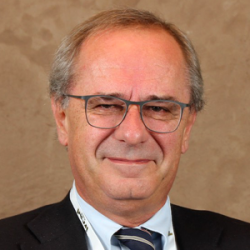 Prof. Guido Costamagna
En bref
Guido Costamagna is Professor of Surgery and Head of the Digestive Endoscopy Unit at the Università Cattolica del Sacro Cuore, Policlinico Gemelli, Rome, Italy. He is a world-renowned endoscopist with special expertise in therapeutic bilio-pancreatic endoscopy. He is the Scientific Director of the European Endoscopy Training Center at the Università Cattolica del Sacro Cuore (which he founded in 2002), Director of the Institute of Clinical Surgery, Past-President of the Italian Society of Digestive Endoscopy and Past President of the ESGE (European Society of Gastrointestinal Endoscopy). He has performed approximately twenty world premieres in surgery in Italy. In 2015-2017, he is chair of digestive endoscopy at USIAS and member of the Institute for Research into Cancers of the Digestive System (IRCAD). He is author of over 600 publications including journal articles, book chapters and abstracts. He has respectively been an athlete, President of the Jury, Tournament Director, and Doctor for Italy's national fencing team in fourteen world championships and two preparatory phases to the Olympics (1984, 1988).
Roma, Italie
Professor of General Surgery, Catholic University of Milan
Italien, Français, Anglais, Espagnol
Expérience Professionnelle
Primary Operative Unit of Surgical Digestive Endoscopy
Policlinico Universitario "A. Gemelli", Roma.
Consultant, Digestive Endoscopy and Gastroenterology
Policlinico Universitario, Libera Università Campus Bio-Medico, Roma.
Scientific Director of the European Endoscopy Training Center (EETC)
Università Cattolica del Sacro Cuore, Roma.
Formation
Specialization in Gastroenterology and Digestive Endoscopy
1992
Università Cattolica del S. Cuore
Specialization in Gastrointestinal Surgery
1985
Università La Sapienza
Training in therapeutic Digestive Endoscopy
1983
Dipartimento MedicoChirurgico di Gastroenterologia ed Epatopancreatologia, Università Libera di Bruxelles, Belgio.
Publications
Endoscopic full-thickness resection of superficial colorectal neoplasms using a new over-the-scope clip system: A single-centre study.
2017
Digestive and liver disease : official journal of the Italian Society of Gastroenterology and the Italian Association for the Study of the Liver
Lire ici
Gastroesophageal reflux after peroral endoscopic myotomy: a multicenter case-control study.
2017
Endoscopy
Lire ici
Intra-channel stent release technique for fluoroless endoscopic ultrasound-guided lumen-apposing metal stent placement: changing the paradigm.
2017
Endoscopy international open
Lire ici
Associations professionnelles
Fismad
Since 2011, General secretary
European Society of Gastrointestinal Endoscopy
2009 - 2010: President
European Society of Gastrointestinal Endoscopy
2007 - 2008: Elected president