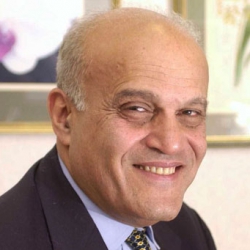 Prof. Yacoub Magdi
En bref
Professor Sir Magdi Yacoub, MD, FRS is reputed to have performed more heart transplants than anyone else in the world having restarted the transplant program at the Harefield in 1980. The Harefield has now performed over 2500 transplants. He is currently Professor of Cardiothoracic Surgery at Imperial College in London, leading over 60 researchers in tissue engineering, myocardial regeneration, stem cell biology, end stage heart failure and transplant immunology. He is the International Liaison for the International Society for Cardiovascular Translational Research. Yacoub's major achievements may be summarized: - establishing heart transplantation in UK and becoming the world's leading transplant surgeon - establishing and becoming a master of the "Ross Procedure" or pulmonary autograft, including a randomized control trial - pioneering the modern arterial switch operation - promoting the use of left ventricular assist devices for the 'Bridge to Recovery' and establishing the largest experience in the world - establishing the Heart Science Centre, Magdi Yacoub Institute for research into the causes and treatment of cardiac disease - establishing the Chain of Hope Charity which provides cardiothoracic surgical care to the developing world championing academic medicine, humanitarian surgery and becoming an example of a minority surgeon who flourished in institution-dominated field. Dr. Yacoub is also well known for his charity work and was Knighted by Queen Elizabeth in 1991. In 1995 he founded the charity Chain of Hope, which has funded new heart surgery hospitals for children who would otherwise never get surgery in countries including Egypt, Ethiopia, Jamaica and Kenya. Dr. Yacoub leads teams of volunteers traveling to the Chain of Hope hospitals to provide training and expertise. He was involved in the restart of UK heart transplantation in 1980 (there had been moratorium following the series of three performed by Donald Ross in 1968), carried out the first UK live lobe lung transplant and went on to perform more transplants than any other surgeon in the world. A 1980 patient, Derrick Morris, was Europe's longest surviving heart transplant recipient until his death in July 2005. A March 1978 heart by-pass patient continues to live a very active and fruitful life.
London, Royaume Uni
Professor of Cardiothoracic Surgery
Anglais, Arabe
Expérience Professionnelle
Co-Chair and Research Director
Depuis 2010
Qatar Cardiovascular Research Center
Founder and Chair
Depuis 2008
Magdi Yacoub Research Network, London
Founder and Director of Research
Depuis 2001
Magdi Yacoub Research Institute, Harefield
Formation
Honorary DSc
1990
University of Loughborough
Honorary PhD
1988
University of Lund, Sweden
Honorary DSc
1986
University of Cardiff
Publications
Exploring cardiac biophysical properties.
2015
Global cardiology science & practice
Lire ici
Persistent Epstein-Barr virus infection: unrestricted latent and lytic viral gene expression in healthy immunosuppressed transplant recipients.
2002
Transplantation
Lire ici
Associations professionnelles
Society of Cardiothoracic Surgeons of Great Britain and Ireland (SCTS)
Member
British Cardiac Society
Member
Royal Society of Medicine
Member
Distinctions
Legend of Cardiovascular Medicine
American College of Cardiology
2012
Greatest Nile Collar for science and humanity
2011
Lifetime Achievement Award
Daily Mirror Pride of Britian
2007