Robot-Assisted Partial Nephrectomy - Retro- & Transperitoneal Approach - Advanced 2-Day Course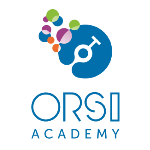 Urology, Robotic Surgery
Melle, Belgium

2-days course

/

Effective duration: 16h

4 attendees per session
English
Training details
Orsi Academy offers an Advanced 2-Day Course in Robot-Assisted Partial Nephrectomy for urologists who already master the robotic surgery approach and who want to improve their specialized skills. This course adresses both retro- & transperitoneal approach.
Proctored by top experts Prof. Dr. Christophe Vaessen & Prof. Dr. Alex Mottrie.
This 2-day masterclass consists of live case observations and hands-on wet-lab training on porcine models.
After completion, participants receive a Orsi Academy certificate & CME credits.

What will you learn?
Complication management
Tips and tricks for complex cases
Educational methods
Live case observation, Hands-on, Simulation, Video, Lectures, On-site
Advantages of the procedure
The transperitoneal approach is a recommended surgery for tumors that are more anterior and are not easily accessible from the retroperitoneum. Retroperitoneal approach during RAPN could guarantee a more direct access to the kidney and renal hilum without bowel mobilization and an easier access to the lesions located at the level of the posterior face of the kidney. This could lead to a reduction of the operative time, to avoid extensive dissections, and in particular patients could decrease the incidence of perioperative complications.

Target audience
This course is for urologists with previous experience on the robot, who want to learn or optimize the robot-assisted partial nephrectomy procedure. This course is not for robotic beginners.
Clinical results
Larcher A, De Naeyer G, Turri F, Dell'Oglio P, Capitanio U, Collins JW, Wiklund P, Van Der Poel H, Montorsi F, Mottrie A; ERUS Educational Working Group and the Young Academic Urologist Working Group on Robot-assisted Surgery. The ERUS Curriculum for Robot-assisted Partial Nephrectomy: Structure Definition and Pilot Clinical Validation. Eur Urol. 2019 Jun;75(6):1023-1031. doi: 10.1016/j.eururo.2019.02.031. Epub 2019 Apr 9. PubMed PMID: 30979635.
Requirements
The trainee completed at least 30 robotic procedures as a console surgeon in the last year.

The trainee has a good level of English.
Program
Day 1 | 08:00 - 17:00 | Live case observation at OLV Hospital Aalst
MORNING

Live case observation at OLV Hospital Aalst of complex RAPN cases performed by Prof. Dr. Christophe Vaessen & by Prof. Dr. Alex Mottrie with a step-by-step explanation of the retro- & transperitoneal approach.
Lunch at the OLV Hospital Aalst
AFTERNOON

Theoretical session with semi-live videos of RAPN cases of both the standard transperitoneal and retroperitoneal procedures.
Day 2 | 09:00 - 17:00 | Hands-on wet lab training at Orsi Academy

Theoretical introduction on techniques and advanced tips and tricks of RAPN
Dry-lab training on harvested kidney with focus on the transperitoneal versus retroperitoneal approach with suturing technique
Wet-lab training on porcine model: full RAPN
Medical devices
- Intuitive Surgical Da Vinci Xi
- Intuitive Surgical Da Vinci Si
- Intuitive Surgical Da Vinci X
Pictures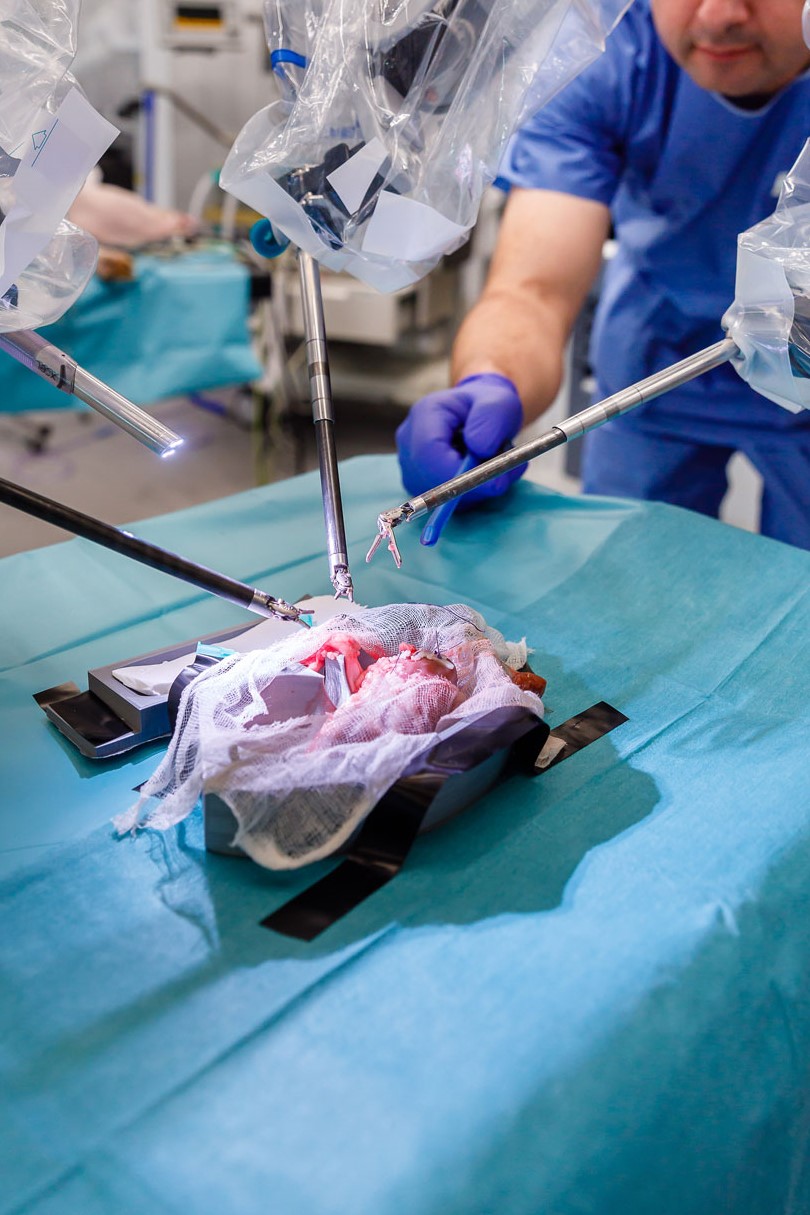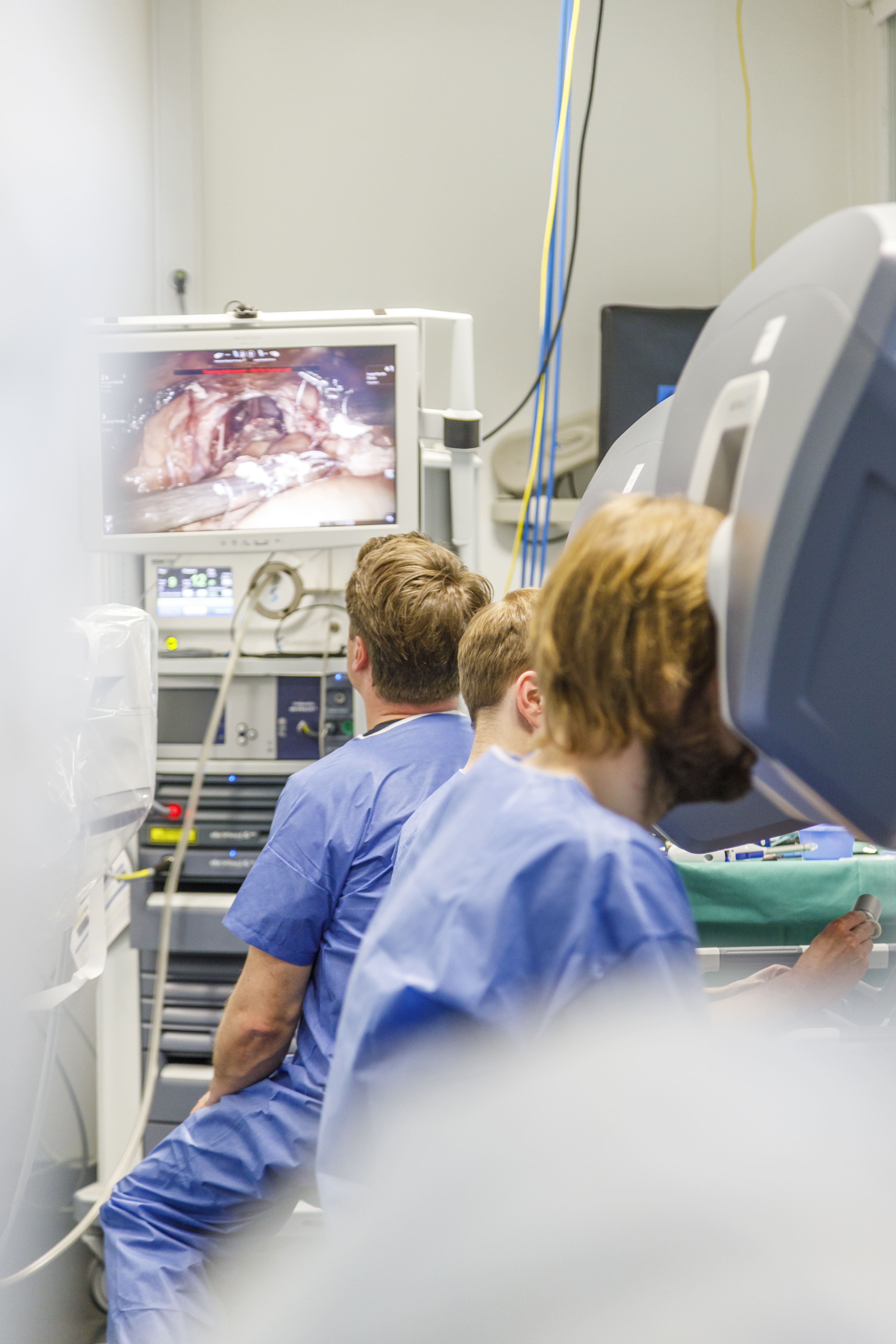 Logistics data
Getting there
Once your registration is confirmed by Orsi Academy and/or Invivox, please contact our Hospitality Officer to arrange your accommodation & transfers. Unfortunately, Orsi Academy is very difficult to reach by public transport. The nearest train station is a 35 min walk. We strongly advise you to come by car or taxi.
If you are coming to an Orsi training, you can enjoy a free pick-up from one of our partner hotels. Upon request, our Hospitality Officer can arrange a pick-up from your hotel to Orsi Academy. Also the transfer back to the hotel is included in the course price, except on the last day of the training. Transfers from a non-partner hotel or from/to the airport are not included but can be offered at favorable prices.
Orsi has a cooperation with taxi company 'Limo Saelens'. For urgent matters, you can reach them 24/7 on +32 475 27 89 36, +32 495 57 27 21 or via [email protected]

Where to stay?
Click here to have a look at our partner hotels in Ghent and in Aalst. Each location offers fixed prices or discounts. If you are interested in making a reservation, please ask for a room with Orsi-rates or contact our Hospitality Officer. The fixed prices can vary depending room availability. There is an additional fee of 3 euros city tax per person per night. Group reservations apply different prices that differ upon request.

Place
ORSI Academy
Proefhoevestraat 12
9090 Melle, Belgium