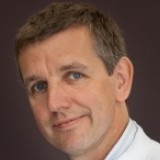 Dr. Jo Vandervoort
Overview
Dr. Jo Vandervoort is a Specialist in: Advanced therapeutic endoscopy ERCP (Endoscopic RetrogradeCholangioPancreatography) EUS (Endoscopic Ultrasound) IBD (Inflammatory Bowel Diseases)
Work experience
Chief of Gastroenterology
Since 2013
OLV Ziekenhuis Aalst-Asse-Ninove
From 1997 to 2014
Education
MD , Advanced Therapeutic Endoscopy
1997
Harvard Medical School, Boston, USA
M.D. - Internal Medicine / Gastroenterology
1995
University of Leuven
Pubmed
Randomized trial of working memory training as an adjunct to inpatient substance use disorder treatment.
2018
Psychology of addictive behaviors : journal of the Society of Psychologists in Addictive Behaviors
Read it here
Ten-year survival after endoscopic stent placement as a bridge to surgery in obstructing colon cancer.
2018
Gastrointestinal endoscopy
Read it here
An unusual cause of severe, persistent diarrhoea.
2017
Acta gastro-enterologica Belgica
Read it here
Professional associations
American Society for Gastrointestinal Endoscopy (ASGE)
Member
Beligian Society for Gastrointestinal Endoscopy (BSGIE)
Member
Vlaamse Vereniging voor Gastroenterologie (VVGE)
Member