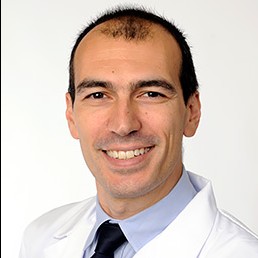 Prof. Simone Crivellaro, MD
Overview
Simone Crivellaro, MD, is an Assistant Professor in Minimally Invasive Urology and the Director of Urology Robotic Training at University of Illinois at Chicago.
Dr. Crivellaro specializes in minimally invasive urology and robotic surgery, working on all urologic issues that can be treated in a minimally invasive manner. He is an expert in uro-oncology and reconstructive urology through laparoscopic and robotic procedures.
Dr. Crivellaro also works extensively on urologic and robotic research, studying virtual biopsy, laparoscopic robotic surgery, and MRE for prostate cancer. He has collaborated extensively with the UIC Innovation Center, which brings together educators, experts and students from a variety of programs to collaborate on products from design inception to production, such as Dr. Crivellaro's sewing machine endoscopic device.
This year, he will also head a new exchange program between the Department of Urology and University of Torino in Italy.
Himself a native of Italy, Dr. Crivellaro completed his medical training at University of Torino, and his residency between University Hospital of Novara in Italy, Lahey Clinic in Boston and Harper Hospital in Detroit. Prior to his medical training, he studied Latin, ancient Greek and Italian literature at Italian Navy Military College.
Source : UIC
Chicago, United States
Assistant Professor, Minimally Invasive Urology , UIC, Chicago, IL, USA
Work experience
Assistant Professor, Minimally Invasive Urology
University of Illinois, Chicago, IL, USA
Section Chief
UIC Urology Department
Mount Sinai Hospital, Chicago, IL, USA
Director
Urology Robotic Training
University of Illinois, Chicago, IL, USA
Education
MD
University of Torino, Italy
Fellowship
Wake Forest Baptist Medical Center, Winston-Salem, NC, USA
Residency
Lahey Hospital & Medical Center, Burlington, MA, USA
Pubmed
Affordable Laparoscopic Camera System (ALCS) Designed for Low- and Middle-Income Countries: A Feasibility Study.
2018
World journal of surgery
Read it here
Re: Lee C. Zhao, Aaron C. Weinberg, Ziho Lee, et al. Robotic Ureteral Reconstruction Using Buccal Mucosa Grafts: A Multi-institutional Experience. Eur Urol 2018;73:419-26: Robotic Ureteral Reconstruction with Buccal Mucosal Graft: A Call Not To Lose Momentum.
2018
European urology
Read it here
Therapeutic inhibition of USP7-PTEN network in chronic lymphocytic leukemia: a strategy to overcome TP53 mutated/deleted clones.
2017
Oncotarget
Read it here
Professional associations
European Association of Urology (EAU)
Member
American Urological Association (AUA)
Member
Chicago Urology Society
Member